Lepidolite is an uncommon mica and has only in the past decade become available on the mineral market in large quantities. Lepidolite is an ore of lithium and forms in granitic masses that contain a substantial amount of lithium. The lithium content in lepidolite does vary greatly however and low lithium lepidolite is nearly useless as an ore of lithium. The typical violet to pink color of lepidolite is characteristic and is the only field test available to identify lepidolite from other micas. Pink muscovite or very pale lepidolite may confuse an identification.
Lepidolite, like other micas, has a layered structure of lithium aluminum silicate sheets weakly bonded together by layers of potassium ions. These potassium ion layers produce the perfect cleavage. lepidolite crystals accompany such other lithium bearing minerals such as tourmaline, amblygonite and spodumene and can add greatly to the value of these specimens. A rock made of granular pink lepidolite and red to pink tourmaline is used as an ornamental stone for carving. Single large plates or "books" of lepidolite can have appealling violet color and make attractive mineral specimens.
Lepidolite is a Lithium bearing mica. It's common colors are lilac/rose with some gray and white mixed in. The mineral sparkles like crazy under bright light. Best specimens come from Brazil. Lepidolite is a relatively new addition to mineral collecting. We had never seen a Lepidolite freeform until a few months ago, and we really like them.
Lepidolite Schist is found in the USA mostly in the Black Hills area. The colors there normally run pink/purple and make nice collector specimens or more commonly are used for Landscape decoration...that would be "Yard Rocks". The mica particles reflect the sunlight and make the schist variety a popular although rather rare specimen. The nicest specimens of Lepidolite tend to come from Brazil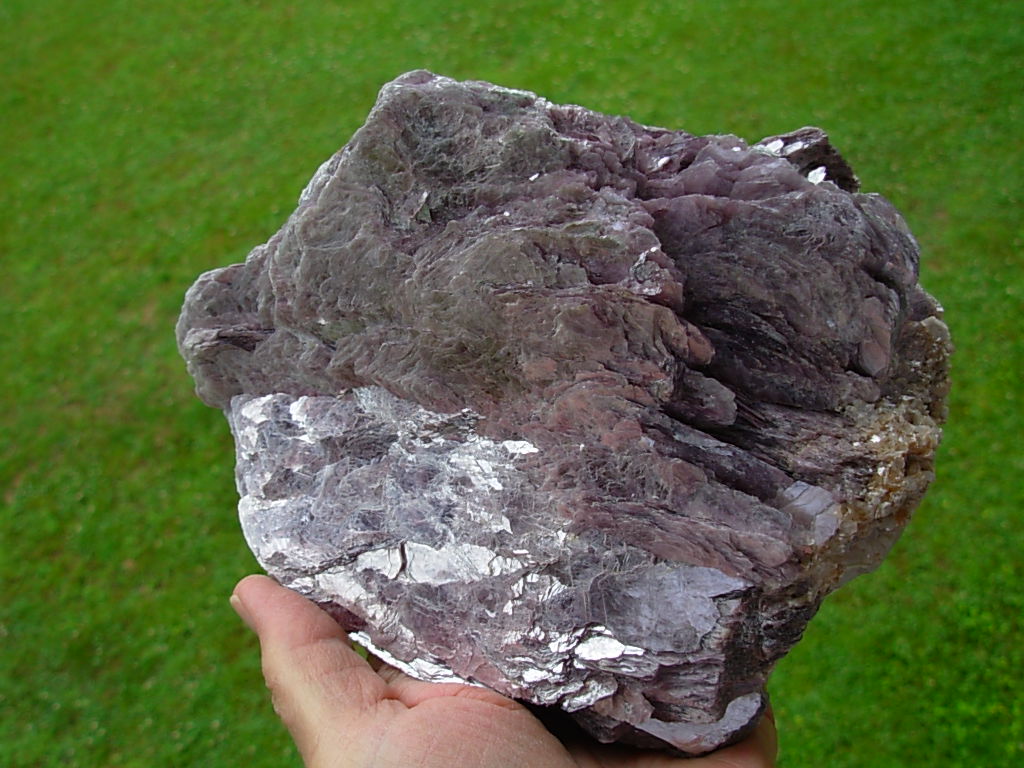 Item # V-LEP06199372
Large Lepidolite Lithium Mica specimen with a bit of matrix from Brazil

This is a Collector Grade Large Cabinet Lepidolite (Lithium bearing Mica) specimen.
This is an excellent large cabinet specimen of Lepidolite Mica with a small amount of Microcline and Quartz matrix from Brazil. This was hand selected from a Brazilian Minerals Dealer at the May 2019 Franklin, NC Show.
This specimen measures 7.2 x 5.2 x 3 inches (18.3 x 13.4 x 7.6 cm) and weighs 74.2 oz or 4.64 lbs (2.107kg)




Item #: 26LEP06183022
Lepidolite Polished Freeform from Madagascar

This is a rare and highly desirable Lepidolite specimen!
The dimensions of the stone are 2.6 x 2 x 1.2 inches (6.7 x 5.1 x 3.1 cm). It weighs 5.4 oz or 0.33 lb (153g), and has a very nice polish.
The stone really sparkles beautifully under natural or halogen lighting. There is one very small vug in the crystal. You will likely feel it before you see it.This is a wonderful specimen of a fairly new and hard to come by mineral form from Madagascar. This piece was procured from a Madagascar Minerals dealer at the May 2018 Franklin, North Carolina Show





Item # LM04128998
XL Lilac Purple Lepidolite Lithium Mica Crystal Cluster from Brazil

XL Lilac Purple Lepidolite Lithium Mica Crystal Cluster from Brazil
This is a beautiful specimen of sparkling rich lilac/purple colored Lepidolite Lithium Mica from the Urubu (Vulture) Mine in Arucuai, Minas Gerais, Brazil. This is a rare Old Stock Display Specimen from our personal collection and is one of our favorites! We are listing this piece after receiving several requests for this specimen. Pristine specimens like this with beautiful translucent lavender purple color and an excellent luster displaying both Lepidolite Mica and matrix (which we believe is Microcline) are very rare and those in existence were added to collections years ago. We added a small touch of glue to firmly hold this piece in the display base so the Lepidolite mica sheets would not be damaged while on display. Everyone has to "pick this one up"…a truly magnificent piece!
This specimen weighs 3 lbs (1361g) and measures 6 x 5.3 x 3.4 inches (15.3 x 13.4 x 8.6cm)