Amber Onyx is a translucent calcite found only in the Uinta Mountains, which are a high chain of mountains in northeastern Utah. This was discovered in 1995 and Shamrock Mining Associates gained exclusive mining rights to this unique and beautiful semi-precious Amber Onyx, also known as Honeycomb calcite or Honey Onyx.
The name "Honeycomb Calcite" comes from the remarkable honeycomb appearance when viewing a polished surface. The "honeycomb look" is formed by the growth of long fibrous or tubular cells and crystals of honey-yellow calcite outlined by white membranes surrounding each cell. These cells grow in needle-like bundles. This "bundling" adds strength and stability to the stone enabling larger pieces to be mined and processed.
Variations that differentiate Amber Onyx from other forms of calcite are its color, unique crystal patterns created by membrane structures that vary from small honeycomb type cells to larger open cells, translucency, transparency, its ability to accept a high level of polish. This stone does not fade as readily in sunlight as other forms of calcite. The color ranges from a soft, pale yellow to deep golden honey amber depending upon the thickness of the stone. The coloring of the stone is attributed to sulphur deposits at the time of formation. The stone is transparent and translucent, offering a luminous glow when accentuated by artificial, direct or indirect lighting.
The patterns change depending upon the point of origin of the cell growth-ranging from a tight look of small hexagonal cells grouped close together (like honey bee nests) to large cell areas that give a different appearance where cells are at their maximum growth and minimum cell walls appear. Overall, this is an interesting and unique find of a rare and valuable calcite that will make any collector happy! (We stumbled across this find while staying at the Pinewoods Resort in Duck Creek, Utah. The owner of this resort also owns Shamrock Mining who holds exclusive mining rights to this stone.) We will be listing more specimens in the future as we finalize our supplier agreements.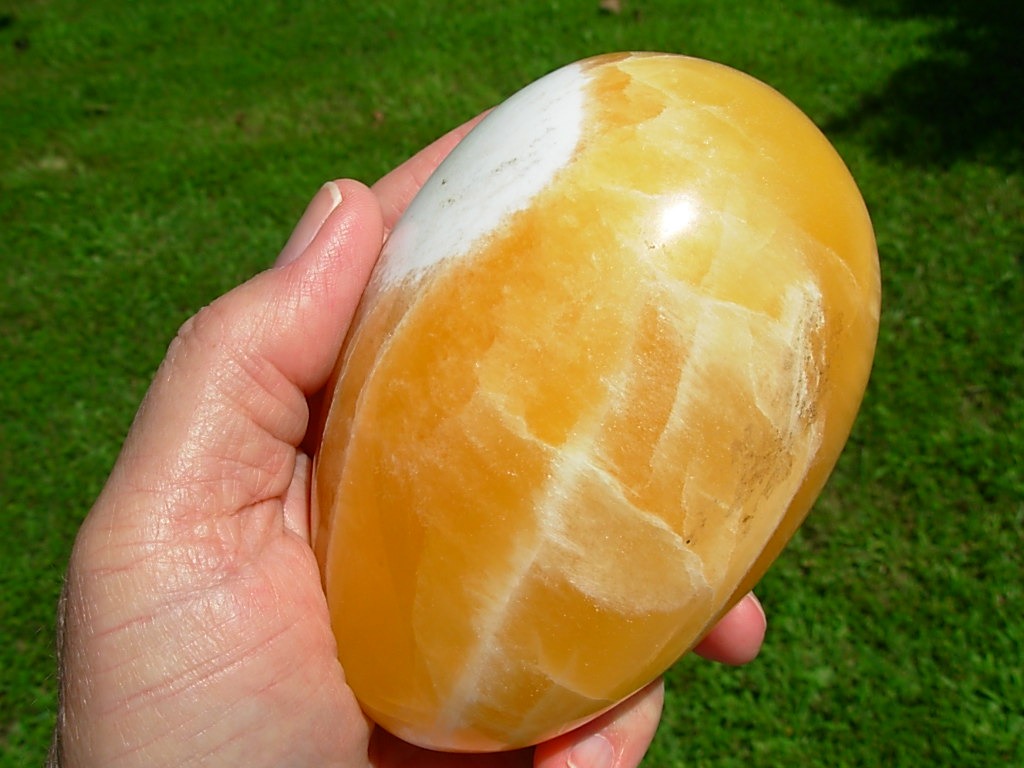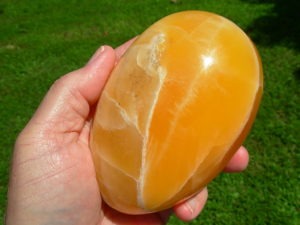 Item #AX08129997
XL Amber Onyx Egg from Utah

Large 4.6" x 3" Amber Onyx Egg from Utah
This specimen is from our personal collection and is a beautiful example of quality Amber Onyx from Utah.
The color is an excellent shiny electric orange with nicely formed cells. Photos taken in natural sunlight
This specimen weighs 2.28 lbs or 36.5 oz (1036g) and measures 4.6 x 3 inches (11.7 x 7.7cm)
We bought this specimen during our stay at Pinewoods Resort.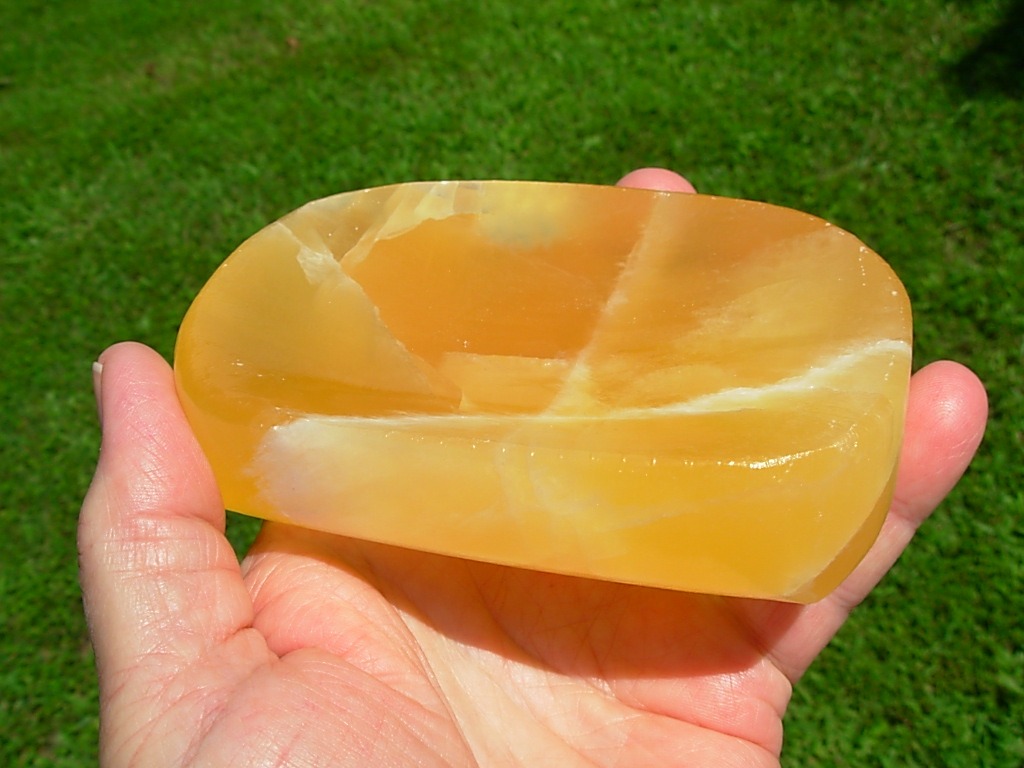 Item #AX08129971
Amber Onyx Soap Dish from Utah

Stunning Amber Onyx Soap Dish from Utah!
This special dish measures 4.5 x 3 x 1.2" (11.4 x 7.6 x 3.1cm) and weighs 1.21 lbs (550g)






Item #AXS08128913
Amber Onyx 2.25 inch Sphere from Utah

Beautiful "honeycomb Calcite" 2 1/4 inch (57mm) diameter sphere with nice patterns and a beautiful deep honey coloring.
This sphere from Utah weighs 9.6 oz or 0.6lb (273g)


Item #AXB08129902
Amber Onyx Carved Buffalo from Utah

Beautiful Amber Onyx 2.86 inch (7.2cm) long buffalo with a two cell split pattern and a beautiful honey coloring. Buffalo stands 2inches tall (52mm) and is 0.85 inches wide (21mm). This was also procured at the resort
This Buffalo from Utah weighs 4.18oz or 0.26lb (118g)





Item #AXB08129909
Amber Onyx Rough Specimen from Utah

Rare and Beautiful amber onyx rough from Utah. This specimen weighs 19oz or 1.18 lbs (539g) and measures 4.7 x 2.7 x 2.6 inches (12.1 x 6.9 x 6.7cm) this super specimen is a beautiful deep honey coloring and is an excellent stand alone display specimen.