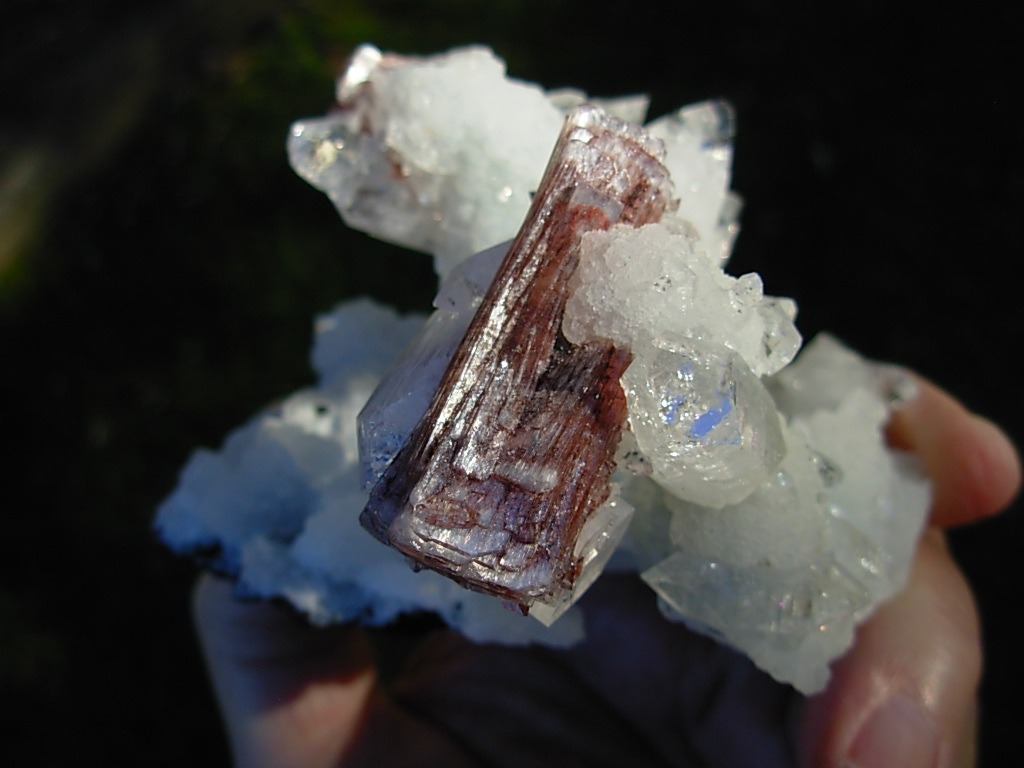 Heulandite is a hydrated calcium sodium aluminum silicate mineral. Heulandite occurs with Stilbite and other Zeolites in the amygdaloidal cavities of basaltic volcanic rocks, and occasionally in gneiss and hydrothermal veins. Heulandite is a member of the Zeolites group and is closely related to Clinoptilolite. The Zeolites group is divided into seven families: Analcime, Chabazite, Gismondine, Harmotome, Heulandite, Natrolite and Stilbite. Heulandite forms sprays of complex translucent crystals. They may have a characteristic coffin-shaped formation, but may also form simple rhombic prisms. It occurs in a variety of colors including clear, white, beige, light yellow, brown, pink, and gray. Less commonly found are; green, red, burgundy, orange, or black.
Heulandite is one of the more common zeolite minerals. It has a very distinctive crystal form and has a noticeable pearly luster on cleavage surfaces. Since its original classification, Heulandite was always regarded as a single mineral species with a variable elemental makeup. In 1997, the Zeolite Subcommittee of the IMA divided this mineral into individual sub-species, thereby regarding Heulandite as a series of four members. The series is defined by the presence of several variable elements in the following order: calcium, sodium, potassium, strontium, and barium.
A distinction among the different Heulandite types is rarely made, and the members are generally just termed Heulandite without further breakdown. Heulandite is named after English mineral dealer Henry Heuland (1778-1856), who made frequent trips to Iceland collecting Heulandite and other zeolites.
Minerals In The Zeolites Group of 7 Families







Item # HEU08100654
Personal Collection
Red Sheaf Heulandite Crystals with Apophylite Crystals on Chalcedony from Poona, India

Here's a Very Special display specimen of Red Sheaf Heulandite with DT Clear Apophylite crystals on a base of white Chalcedony from our Personal Collection. This piece is an especially rare and attractive group of Zeolite Minerals. The Heulandite crystals have a nice vitreous luster. The price we have set on this piece is about 1/2 of its retail value. Comes with SpiritRock Shop ID Card. One of a kind specimen!
This specimen weighs 8.3oz, or 0.52 lb (237 g) and measures 4 x 3.7 x 2.5 inches (10.2 x 9.5 x 6.3cm)