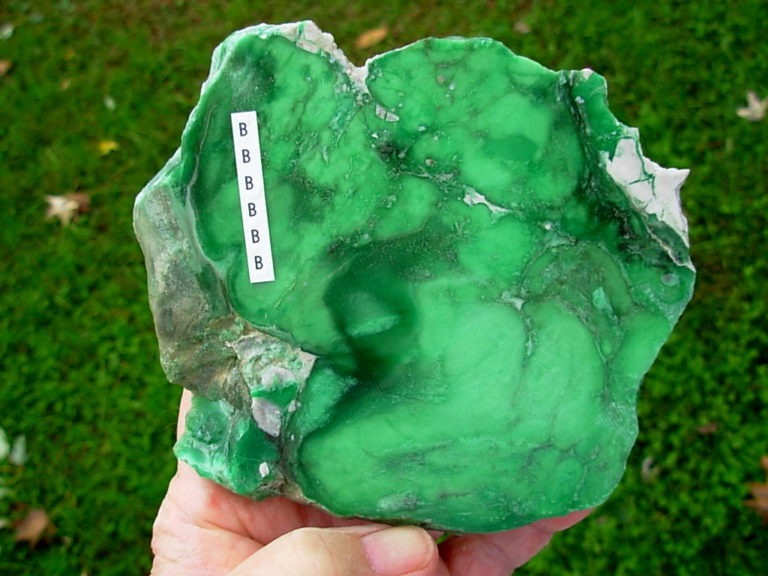 Variscite is one of the most sought after minerals in the entire mineral collecting world.  Variscite is a hydrated aluminum phosphate mineral. It is a relatively rare phosphate mineral that is formed by phosphate rich water deposits that react with aluminum rich rocks in a near-surface environment. It occurs as fine-grained masses in nodules, cavity fillings, and crusts. Variscite often may contain white veins of the mineral Crandallite (a calcium aluminum phosphate mineral).
Variscite was originally discovered in Germany in 1837.  Its name is derived from Variscia, the historical name of Vogtland in Germany, where it was first found. In earlier years, it was also called Utahlite (after significant deposits were found in Utah). It has been sold in America as Variscite, Utah Turquoise, Utahlite, and even soldas Turquoise without the copper.  At times, when exact identities were unknown, minerals which may be turquoise or may be Variscite have even been sold as "Variquoise".
Variscite is often confused with Turquoise. Variscite is normally a more green color, rather than blue. Turquoise coloring comes from traces of copper; Variscite is colored by traces of chromium. Variscite from Nevada can easily be confused with green turquoise since it has black spider-webbing patterns in the matrix, similar to most green turquoise. Most of the Nevada Variscite recovered in recent decades has come from mines located in Lander County in central Nevada. The most notable Variscite deposits in America are found in Utah and Nevada. It has also been found in Australia, Germany, Poland, Spain and Brazil.
Utah has three well known Variscite deposits
Little Green Monster Mine   The most sought after Variscite in the world are the nodules from the Little Green Monster Mine, Clay Canyon, Fairfield, Utah Co. Utah. Large nodules were once mined, crushed, and processed for the phosphate ore. Today Clay Canyon Variscite is the most rare and valuable Variscite in the world. It also has other rare associated phosphate minerals such as Millisite, Wardite, and Crandallite in veins which add to the visual aesthetics.
Lucin   Lucin Variscite (normally called Utah Variscite) is probably the most recognized Variscite in the world. It comes from a hill near Lucin (also known as Umbria Junction) which is an abandoned railroad community in Box Elder County, Utah, United States, along the western side of the Great Salt Lake, 162 miles (261 km) northwest of Salt Lake City. This deposit is owned by Union Pacific Railroad and is currently not being mined. Rockhounds have collected high grade specimens from this mine for decades. Collecting is no longer allowed in this area, making old time collections very valuable.
Snowville   This prized deposit of Variscite, known as Variquoise (because it so closely resembles turquoise), comes from Box Elder County, near the Utah-Idaho border close to Snowville. It is prized for its dark spider-web matrix and darker green to blue coloring.
Unfortunately, all these locations are now closed and the prospect for new material coming from them any time soon is very unlikely.
For a description from Wikipedia, the free encyclopedia     https://en.wikipedia.org/wiki/Variscite











Item # ABCDVAR12187340
Old Stock Variscite 4 pcs 5.9mm thick slabs from Lucin, Utah
4pc unpolished, Variscite lapidary slabs from Lucin, Utah. Shown wet and dry.
These 4 slabs weighs 42g combined weight
10g slab A measures 1.1 x 1.1 x 0.32" (30 x 20 x 5.9mm)
9g slab B measures 1.21 x 0.98 x 0.23" (28 x 25 x 5.9mm)
12g slab C Measures 1.4 x 1 x 0.23" ( 36 x 26 x 5.9mm)
11g slab D measures 1.3 x 1.2 x 0.23" (33 x 30 x 5.9mm)








Item # EFGVAR12189270
Old Stock Variscite 3 pcs 5.9 to 6.5mm thick slabs from Lucin, Utah
3pc unpolished, Variscite lapidary slabs from Lucin, Utah. Shown wet and dry.
These 3 slabs weighs 70g combined weight
23g slab E measures 1.6 x 1.5 x 0.24" (41 x 39 x 6.5mm)
21g slab F measures 1.8 x 1.4 x 0.23" (48 x 36 x 5.9mm)
26g slab G Measures 2.2 x 1.6 x 0.24" ( 56 x 42 x 6mm)




Item # HVAR12189270
Old Stock Variscite 11.3mm thick Slab from Lucin, Utah
11.3mm thick cut, unpolished, Variscite slab from Lucin, Utah
Shown dry and wet.
This slab weighs 2.47 oz or 0.15 lbs (70g)
and measures 3.1 x 1.7 x 0.44"
(78 x 43 x 11.3mm)




Item # JVAR12189841
Old Stock Premium Variscite 6.9mm thick Slab from Lucin, Utah
6.9mm thick cut, unpolished, Variscite slab from Lucin, Utah Shown dry and wet. This premium slab will have very little waste
This slab weighs 5 oz or 0.31 lbs (143g)
and measures 5.3 x 3.9 x 0.27"
(135 x 100 x 6.9mm)




Item # KVAR12186761
Old Stock Premium Variscite 6.8mm thick Slab from Lucin, Utah
4.3 to 6.8mm thick taper cut , unpolished, Variscite slab from Lucin, Utah Shown dry and wet. This premium slab will have very little waste
This slab weighs 5.68 oz or 0.35 lbs (161g)
and measures 5.8 x 3.9 x 0.17 to 0.27"
(147 x 100 x 4.3 to 6.8mm)




Item # LVAR12185831
Old Stock Premium Variscite 5mm thick Slab from Lucin, Utah
5mm thick cut, unpolished, Variscite slab from Lucin, Utah Shown dry and wet. This premium slab will have very little waste
This slab weighs 4.69 oz or 0.29 lbs (133g) and measures 5.78 x 3.7 x 0.19" (146 x 94 x 5mm)




Item # MVAR12189571
Old Stock Premium Variscite 6.4mm thick Slab from Lucin, Utah
5mm thick cut, unpolished, Variscite slab from Lucin, Utah Shown dry and wet. This premium slab will have very little waste
This slab weighs 5.96 oz or 0.37 lbs (169g)
and measures 6.6 x 3.6 x 0.25"
(142 x 91 x 6.4mm)





Item #NVAR12185831
Old Stock Premium Variscite 6.1mm thick Slab from Lucin, Utah
5mm thick cut, unpolished, Variscite slab from Lucin, Utah Shown dry and wet. This premium slab will have very little waste
This slab weighs 5.58 oz or 0.35 lbs (158g)
and measures 5.3 x 3.6 x 0.24"
(135 x 91 x 6.1mm)



















Item # PVAR121879011
Old Stock Premium Variscite Face cut Nodule from Lucin, Utah
Face cut, unpolished, Variscite nodule from Lucin, Utah Shown dry and wet. There is a small vug on the back side with a botryoidal Variscite formation. This premium nodule will have very little waste
This nodule weighs 37.6oz or 2.35 lbs (1.066kg)
and measures 5.1 x 4.4 x 2"
(13 x 11.3 x 5.3 cm)